Building Character: "Girl Scouts Are Supposed to Help"
You Are Here : Home : FOR DONORS : 2011 Year End Appeal : Building Character: \"Girl Scouts Are Supposed to Help\"
How Your Gift Helps Girls
•
Why I Give
•
Donor Testimonials
•
Change Their World Today
•
Encouraging Girls
•
Becoming Confident, Becoming Leaders
Young Pacifica Girls' Character Shines Bright
in Dark Days after San Bruno Gas Explosion
The devastating images of the gas line explosion in San Bruno last year left a lasting impression: a burning ball of fire, a charred and barren landscape where houses once stood, family members lost or left homeless. For the girls of Brownie and Junior Troop #31846 in Pacifica, these were more than images on TV – they live just over the hill from San Bruno, and go to school with children from the community.



"It made me sad," Brianna said. ""We decided to do something good for them."

The troop, a group of 11 eight- and nine-year-olds, couldn't shake the thought of children like them losing everything. While talking about it with their Girl Scout leader, Connie, they brainstormed ideas to help make the displaced children feel better. Their solution? Books – something the girls hold in high regard.

"Even if you see your house go away, in ashes, a book can be so good it could take your mind off of it for a little while," Aly said.

Connie said the girls – all avid readers – decided to host a book drive for the young victims of the San Bruno explosion at the elementary school where they meet.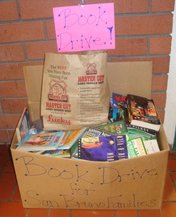 "The girls were so sad about it," Connie said. "They kept thinking about the children losing their houses and all their things, and then they were just sitting in hotels without anything, and nothing to do."

"And we know little kids like to read," Gerelene said.

When asked their own favorites, the troop members all agreed: they like adventure books or scary ones, like the Goosebumps series, Harry Potter, Judy Blume classics, and big, bright picture books.

So the San Bruno book drive was born.

The girls' eyes light up when talking about the towers of books that came in and overflowed into the multi-purpose room, donated by students and their families, by teachers and janitors, by community members.

"There were lots of books!" Gellie said. "They were even on the floor, covering the tables. Little books, big books, all kinds!"

More than once, Connie became emotional watching her girls during the book drive.

"I was so proud of them," she said. "They have grown so much over just a couple of years."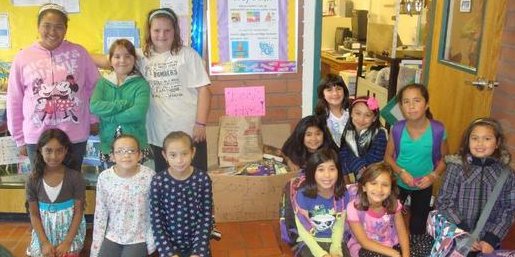 Camping, earning badges, making friends, and selling cookies makes the troop's list of favorite reasons for being in Girl Scouts – but helping others is at the top.

This year, they organized a Halloween costume swap at school, where children could bring in a used costume from a previous year and trade it for something new.

"But some kids might not have money for a costume," Aly J. said, "so we decided that anyone who came could take a costume even if they didn't bring one."

"It's important to think about other people," she continued. "Girl Scouts are supposed to help – it's even in the Girl Scout Law."

In 1912, Juliette Gordon Low, the founder of Girl Scouts, encouraged girls to "do a good turn to someone every day: that is, to be a giver and not a taker." Almost 100 years later, she would burst with pride while observing the exceptional character among the girls of Troop #31846.
"I just want to help people," Remy said. "But not everyone does – some people don't care, and so Girl Scouts have to care more."
Why I Give to Girl Scouts: Dr. Shoba Krishnan

Santa Clara University Engineering Professor, Troop Leader & Board Member, Girl Scout Mom

"I truly believe that Girl Scouting changes girls' lives. It provides them an environment where they can be themselves and not be isolated because they are different. Whether it be robotics or high adventure, the girls can try and test their skills without being judged."
To hear more from Shoba and other Girl Scout supporters about why they give, click here.
Click here to change the world for a girl!
At Girl Scouts of Northern California, we work every day to build character in girls like the Pacifica troop -- along with courage and confidence, character is a cornerstone of the Girl Scout mission! With your help, we can change their world today -- and they'll change ours tomorrow.