Encouraging Girls When They Need It Most
You Are Here : Home : FOR DONORS : 2011 Year End Appeal : Encouraging Girls When They Need It Most
How Your Gift Helps Girls • Why I Give • Donor Testimonials • Change Their World Today • Building Character: "Girl Scouts are Supposed to Help" • Becoming Confident, Becoming Leaders

Encouraging Girls When They Need It Most

"A year ago, I was that kid that you wouldn't want to be around," said Talia , a Sonoma County teen. "I was

heading down the road toward either incarceration, or death. Lucky for me, it was just incarceration."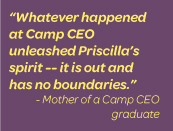 Drugs and poor decisions landed Talia in the Sierra Youth Center. It was there, in a court-appointed juvenile justice residential facility, where Talia came across a surprising source of inspiration and encouragement: Girl Scouts.

As part of our Girl Scout Got Choices program, Talia participated in workshops on building self esteem, making healthy choices, and setting goals – and she found the courage to forgive herself and let go of the past.

"I started meeting with the Girl Scouts, and it just showed me that I could live my life in a whole different way," she said.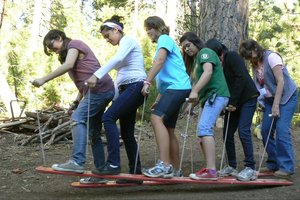 When many people think of Girl Scouting, they think of the traditional troops of young girls in their uniforms, selling cookies, going camping, and earning badges. Less known, yet vitally important, are programs like Got Choices, or the Hispanic Initiative, or Camp CEO – part of Girl Scout outreach initiatives that literally bring Girl Scouting into areas where girls may not have been exposed to Girl Scouts. These could be homeless shelters, juvenile justice centers, at risk high schools, or neighborhoods where it's been difficult to recruit girls or find leaders because of socio-economic conditions or geographic location.

Outreach is simply Girl Scouting's way of reaching girls wherever they are. And for many of these girls, just making the choice to step outside of themselves to become a Girl Scout is an act of courage.

Angelica, for example. The Sonoma teen is often tasked with being the parent in her large family, and has faced many personal obstacles. Before this summer, she had never traveled away from her relatives, but she had pledged to herself that she would be the first in her family to go to college. Angelica heard about Girl Scouts' Camp CEO, a program where teen girls connect with successful businesswomen for career exploration, networking, and confidence-building at a Girl Scout camp. She steeled her courage, and applied.

"At first, I know I am going to be very shy, and may not say much," Angelica wrote in her application. "I have never traveled alone before in my life. I am nervous … I would like to be able to feel like I can be on my own and feel comfortable going away to college."


As a Camp CEO participant, Angelica and 58 other girls blossomed – dropping their barriers and making real connections with female role models who helped them lay out a path for their futures.

Camp CEO girls leave more confident and independent – just ask Anabelle, whose daughter, Priscilla, attends an at-risk high school and came back from Camp CEO changed for the better.

"Priscilla returned with a different outlook about the world," Anabelle said. "Now everything is possible! She was telling me how she met all of these successful women and how she was so inspired to become like them – to Priscilla, not even the sky is the limit."

"Going to college has always been in her mind, but now is embedded in her DNA. Whatever happened at Camp CEO unleashed Priscilla's spirit – it is out and has no boundaries. She can conquer the world!"

Priscilla succeeded so well at camp that she was asked to return the next year as a girl mentor – where she in turn inspired Talia, who had applied for Camp CEO after being encouraged by her Girl Scout leader at the Sierra Youth Center. And Talia, whose life is now on a positive track, plans to apply to come back as a girl mentor next year, keeping the circle going.

"I just really want to tell people that they should help Girl Scouts if they can," Talia said, "because Girl Scouts has really helped me."

You can help us fulfill our mission of creating girls of courage, confidence, and character – click here to change the world through Girl Scouting!


---

Why I Support Girl Scouts: Carol Gray
Girl Scout alumna, executive director of the Thrive Foundation for Youth, Girl Scout mom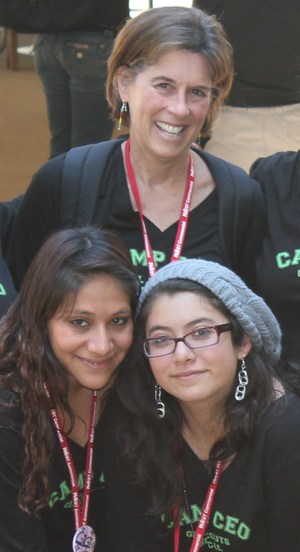 "I was a Brownie many moons ago and grew some Brownies too. However, I didn't stick with Girl Scouting long enough. Today I am re-connected with Girl Scouts as an executive director of Thrive Foundation for Youth. Whether it's meeting with Girl Scout leadership or roughing it at Camp CEO with young people from situations of disadvantage, I am becoming aware of a whole stage that I missed. At Camp CEO ... I hope I taught them some planning skills for reaching their dreams.

I watch a Girl Scout team that grounds itself in adolescent research and then constantly seeks improved impact. Girl Scouts is clearly in the top 1% of organizations working with youth today."


---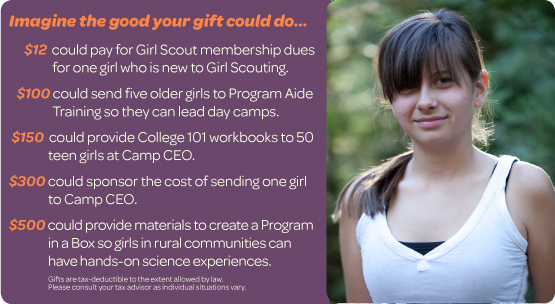 For more information about Girl Scouts of Northern California or to donate, please visit our website at GirlScoutsNorCal.org. Thank You!